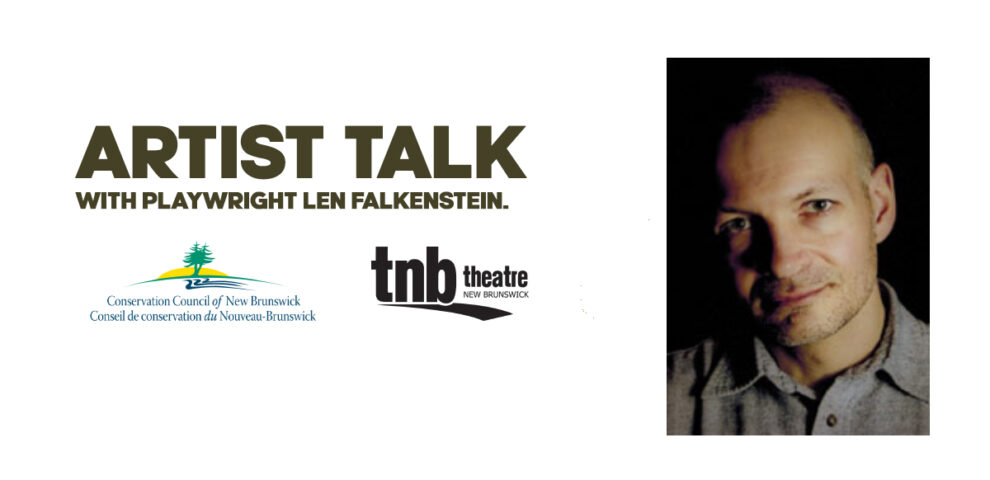 In a world where we often find ourselves caught between personal gain and the planet's greater good, Fredericton playwright and environmental activist Len Falkenstein dares to ask tough questions with his latest production, Wood Buffalo.
What is the cost of our prosperity? Can humanity change in the face of dire consequences? Can conservation and progress coexist? These questions lie at the heart of Wood Buffalo — a thought-provoking play that examines humanity's struggle to reconcile progress with protecting the natural world.
Wood Buffalo marks Falkenstein's first professional production of one of his plays. An artist talk with Falkenstein is set for Thursday, Oct. 19, at 7:30 p.m. The event is free, but space is limited. To reserve a seat, book tickets online.
A universal tale
Wood Buffalo unfolds against the backdrop of the Wood Buffalo region in northern Alberta, home to the Athabasca oil sands, spanning from the days of colonization to the year 2070.
The narrative is set through the lives of diverse characters from across the country, drawn to Canada's oil sands to pursue a brighter future. Falkenstein, the director of drama at the University of New Brunswick, weaves together a tale of compassion and humour, exploring the sacrifices made to maintain our comfortable homes and humming economies.
While the play is centred on the Wood Buffalo region, its message transcends geographical boundaries. It tells a universal story that resonates with communities across Canada as they grapple with the ongoing struggle to strike a balance between responsible environmental management and industry demands.
The need to change
Wood Buffalo is primarily about the need for change while examining humanity's dogged perseverance in a shifting world — for good and bad.
"(The play is) about the fact that we've created an industry that is, in many ways, kind of killing us," said Falkenstein in an interview on Theatre NB's podcast, Behind the Play.
"We need to transition out of fossil fuels, and we need to entirely change the way that we live pretty radically if we're going to have a civilization a few generations for now. But, of course, for human beings, change is one of the hardest things to do."
Through the characters' journeys, the play sparks conversations about environmental conservation, the dilemmas we face in pursuing progress and how people can shift their beliefs and help build a more sustainable future.
"Perseverance can be a bad thing, but it's also a positive thing in the sense that human beings are malleable, and we can endure, and we can adapt, and we can evolve," said Falkenstein.
"As much as this play is bleak, at times it's, ultimately, kind of optimistic too…If we can adapt, if we can do what we need to do to change, there is hope for us."
A personal connection
Falkenstein's inspiration for Wood Buffalo stemmed from his firsthand experiences in Western Canada, where he witnessed the rapid expansion of the oil industry. The play's diverse characters mirror the multifaceted perspectives found in Fort McMurray and the Wood Buffalo region.
"If you are political and into the environment, the oil industry in Canada and Fort McMurray —and everything that it represents — is at the centre of everything," said Falkenstein.
"So, I thought if I'm going to be true to what my interests are and if I want to write a play that is about Canada and the climate crisis and how we're all part of that, Wood Buffalo, which is the region where Fort McMurray is, would be a good place to start."
Falkenstein's journey with Wood Buffalo began in 2018 when he was Theatre NB's playwright-in-residence. Throughout the play's development, multiple visits to Fort McMurray allowed Falkenstein to immerse himself in the community, shaping his characters and storyline based on real-life encounters.
"This is a factually-based work," said Falkenstein.
"What I've come up with, I like to think, anyway, is a play that is polemical, that will challenge people's ideas, but that I like to think is also balanced, that is, to a certain degree, objective and is fair to everyone that lives in this place."
Art and environmental action
Wood Buffalo represents a significant milestone for Theatre New Brunswick. For the first time, the theatre company delves into the complex themes of environmental stewardship and the potentially devastating consequences of unchecked progress.
The play challenges people to consider how choices impact not only their lives but also the collective fate of the planet. Wood Buffalo is a beacon of hope and a call to action in a world where art and activism converge.
Similarly, the Conservation Council's community-engaged artist collective, Harm to Harmony, has been at the forefront of bringing the public into environmental activism through art since its launch in 2020.
"We are constantly flooded with facts about the climate crisis and it can be overwhelming," said the Conservation Council's citizen's engagement manager Danielle Smith.
"Through our climate art program, we are turning these facts into emotions while giving people the ability to act." 
A date with Wood Buffalo
Wood Buffalo makes its world premiere Nov. 8-12 at the Open Space Theatre, 55 Whiting Rd. in Fredericton, before touring the province from Nov. 14-19. Tickets are available on Theatre NB's website.
Share this Post
---
This story was brought to Nouzie by RSS. The original post can be found on https://www.conservationcouncil.ca/bridging-art-and-activism-len-falkensteins-wood-buffalo-explores-battle-between-progress-and-conservation/?utm_source=rss&utm_medium=rss&utm_campaign=bridging-art-and-activism-len-falkensteins-wood-buffalo-explores-battle-between-progress-and-conservation